Meet AJ; he arrove Wednesday: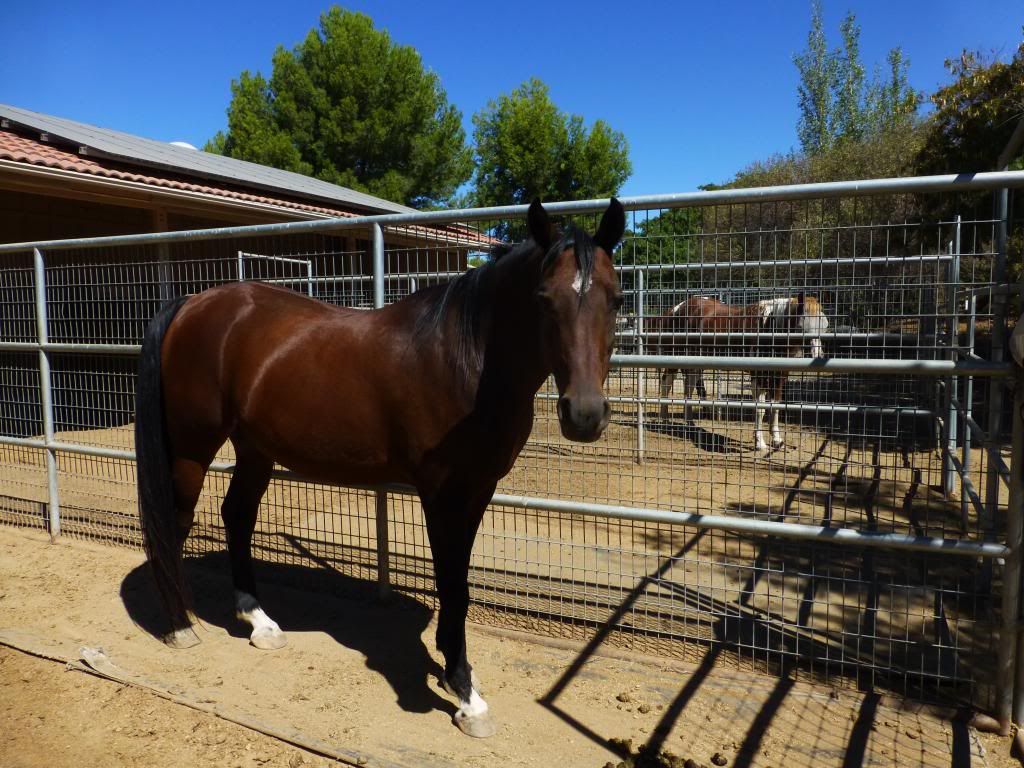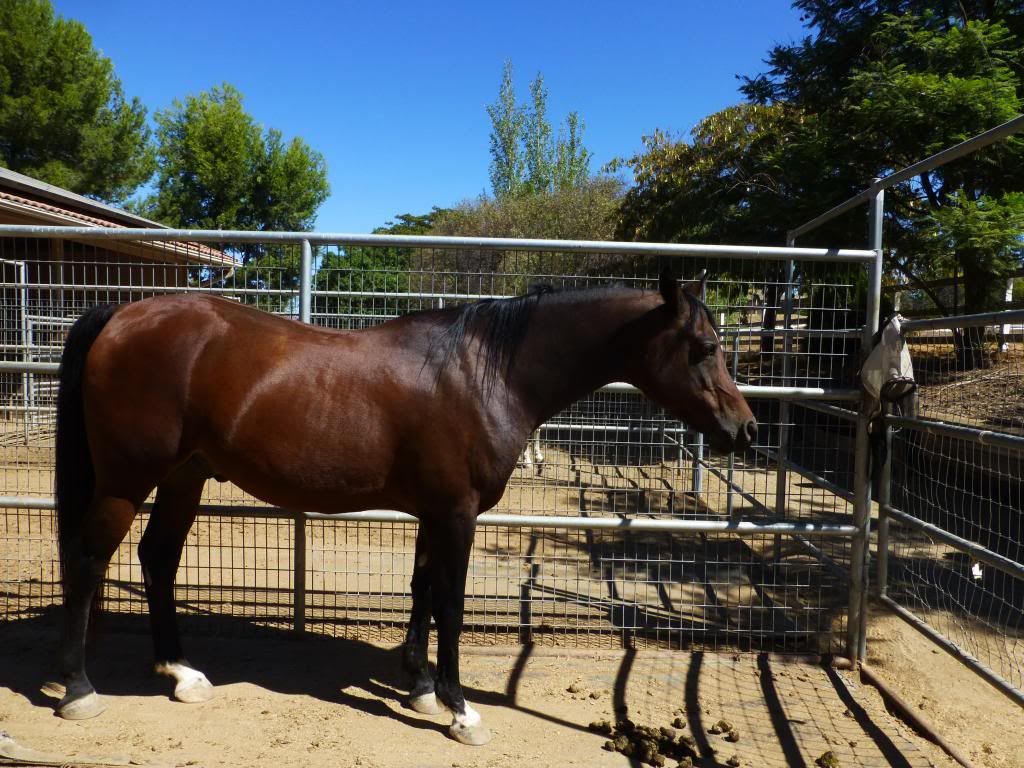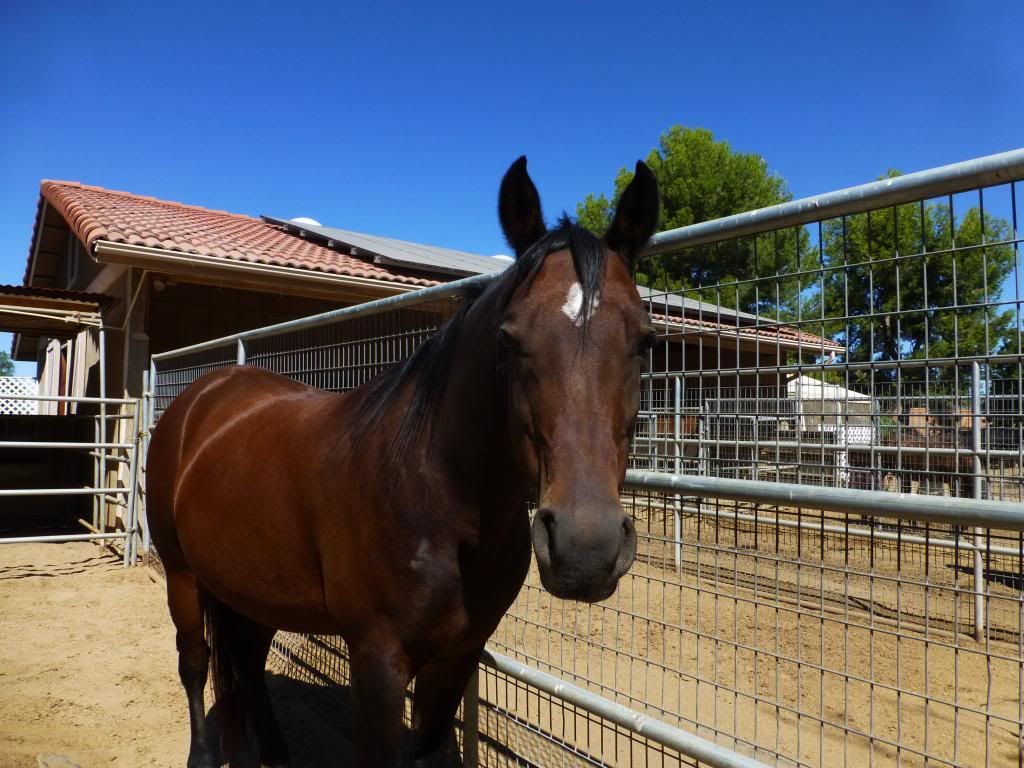 Beautiful horse…thought that was Khartoum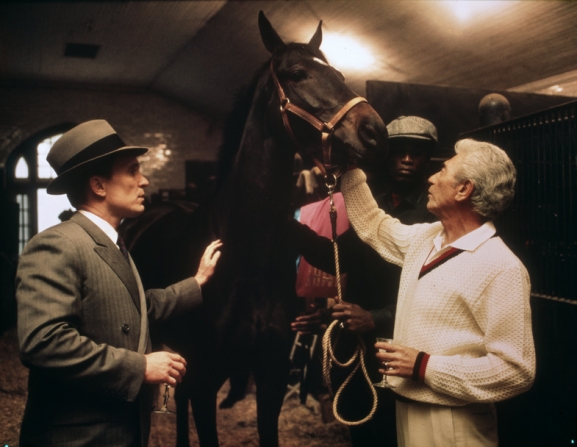 Is he bred from a Top-2 breeder?
Congratulations on giving birth to that large horse. It must have been a fairly laborious delivery.
Probably not, but he has Bask in his lineage on both his sire's and his dam's sides. Bask is somewhat legendary in Arabian circles; we had another Bask Arabian whom we lost two years ago.
So, his breeding's solid, and his training's top drawer. We had Santa Ana winds here on Friday and Saturday, so AJ wasn't doing too well (new digs, new herd, new owners, dust and leaves and junk flying everywhere, trees flapping, weird noises, the works). My wife put him in the round pen and ran him through his training exercises until he focused solely on her, forgot his surroundings, and relaxed. She had to do this a few times, but each time he settled more quickly, and the effects lasted longer than the last time.
Khartoum was a Thoroughbred. AJ's an Arabian (Polish Arabian, to be specific).
Beautiful! I've always wondered though, how does a guy make money off horses without rodeo'ing it? Or is it just a really, really expensive hobby?
Thanks, guys!
Arabians, in my (humble) opinion, are unquestionably the best-looking horses in the world. (Andalusians and Barbs come close.) Arabians have one vertebrae fewer than every other breed of horse, so their backs are a little shorter; every other breed looks out of proportion to me: too long.
For us, it's a really, really expensive hobby.
(If I could figure out a way to include them in the magic act, at least then they'd be a tax deduction.)
You can make money in rodeo, Thoroughbred racing, and breeding and selling (dressage horses, endurance horses, jumpers, cutters, and so on).
I want to do more endurance riding, so we'll probably end up getting another young Arabian one of these days. Of course, I also want to train for the 2016 TREC World Championship, which requires jumping (Arabs aren't known as jumpers); I don't want to own a warmblood, however.
Yes, a really, really, really expensive hobby.
That's a nice palfry. Suitable of a lord.
I know nothing about horses, but that's one good looking horse. Congrats.
That's a beautiful animal, congratulations.
If I can ask, where do you buy your horse supplies? I looked into investing in two companies in this industry, just curious which supplier(s) you use and why. It's a pretty good business overall because horse owners typically really go the extra mile for their animals and the equipment / supplies are not cheap.
Would you invest in shares of Dover Saddlery (DOVR)? How does the company measure up to its competition?
What is the NPV of that horse? ha ha
Good looking horse!
Hi numi,
I don't want to threadjack anymore than I may have already done, but the answer is no, I don't love DOVR. It could get bought out but the company has some problems, namely that the management team is incompetent (and entrenched), they've been losing market share for at least 5 years, and they are destroying capital on their retail expansion. I don't invest in nanocaps with bad management because there is too much negative optionality even though it may ultimately get bought out. I wouldn't invest unless the valuation were incredibly low and even then it would only be a trade. I wouldn't even consider it at 1.7x TBV with a deteriorating balance sheet. We can discuss this over email if you want.
Thanks!
My wife does most of the buying for the horses. She buys a lot from Dover (see the discussion above), and we go to a (relatively) local tack store, Broken Horn in Baldwin Park, CA, for saddles, bridles, halters, bits, and, while we're there, other supplies. We've always found the customer service at Dover to be first-rate, and Broken Horn's convenient (with good customer service as well). You're right about (many) horse owners: they don't scrimp. And horse stuff wears out.